Welcome to Admiral Baysuites!
In early 70′s and 80′s, the Admiral Hotel was among the most distinguished landmark in Manila along Roxas Boulevard.  It hosted the most distinguished visitors in the country, including former US President Herbert Hoover, Britain's Lord Mountbatten, and General Douglas MacArthur.
It remained one of the favorites of Manila's high society, until it was shuttered in the late 1990′s.
The prestigious Admiral Hotel was acquired by Anchor Land Inc, and will be preserved and converted into a luxurious European-themed boutique hotel complete with 6-star white gloved service, the best intercontinental restaurants, a Japanese restaurant, and a French restaurant to be run by a top hotel chain, where it will offer the best and the finest European hotel-type service for all residents, room service right in the confines of their home.
Behind the boutique hotel is a 53-storey tower that houses the condominium units and combining European-style living, 6-star white gloved service, ultra-luxurious amenities like cigar rooms, wine cellars, and all the comforts of    a modern lifestyle, where our residents' enjoyment is our top priority. The Admiral Baysuites aim at what Anchor Land calls "the privileged fewer" whose impeccable tastes and sense ofhistory can only be satisfied by its stratospheric standards, living like gods and goddesses.
The Admiral Baysuites project is located at 2138 Roxas Boulevard, City of Manila, facing Manila Bay, situated behind the luxurious Admiral Hotel. The tower is divided into the West Wing and the East Wing, and all residential units in both wings start on the ninth floor to give its owner unimpeded view of Manila Bay (famous for its breath-taking sunset), Manila and Makati Skylines.
Every part of the Admiral Baysuites exemplifies art. It's like waking up to an exhibit, letting residents' guests marvel at their living space with every visit – Impress and leave everyone breathless.
Listed are some of Admiral Baysuites' Amenities, Features, Services, and Parking details:
Amenities:
o        Wi-Fi Lounge
o        Wii Room
o        Poker Room
o        Mahjong Room
o        Function Room
o        Juice Bar
o        25-Meter Lap SwimmingPool
o        Children's Swimming Pool
o        Jacuzzi
o        Fitness Center
o        Table Tennis Room
o        Aerobics/ Dance Studio
o        Music Room
o        KTV Room
o        Therapy Room+
o        Spa
o        Facial Room
o        VIP Lounge
o        English Garden
Safety Features of the Building:
o        24-hr Security
o        7 High Speed Elevators
o        CCTV
o        Building life safety compliance to local fire code and NFPA 101 safety code
o        Automatic Fire Sprinkler System (AFSS)
o        Two fire escape locations at all levels
o        All equipment provided with accessible clearance for maintenance
o        Fire rated residential doors
o        Security intercom
Services:
In addition, Admiral Baysuites also provides services such as limousine service, helipad and
chopper service and yacht cruise.
Parking Details:
There will be 8 dedicated podium parking levels from Mezzanine to 7th floor.
The size of each parking slots is 2.50 meters wide by 5.0 meters in length with a total  of  12.50 square meter.
Vertical clearance from floor to the bottom of the beam is approximately 2.45 meters from Mezzanine parking level to 6th parking level and 2.80 meters on 7th parking level. Floor to floor height for parking at Mezzanine level to 6th level is 3.25 meters and 3.60 meters on the 7th level.
The width of the driveways in the parking levels is 6.0-6.50 meters.
FLOOR PLANS: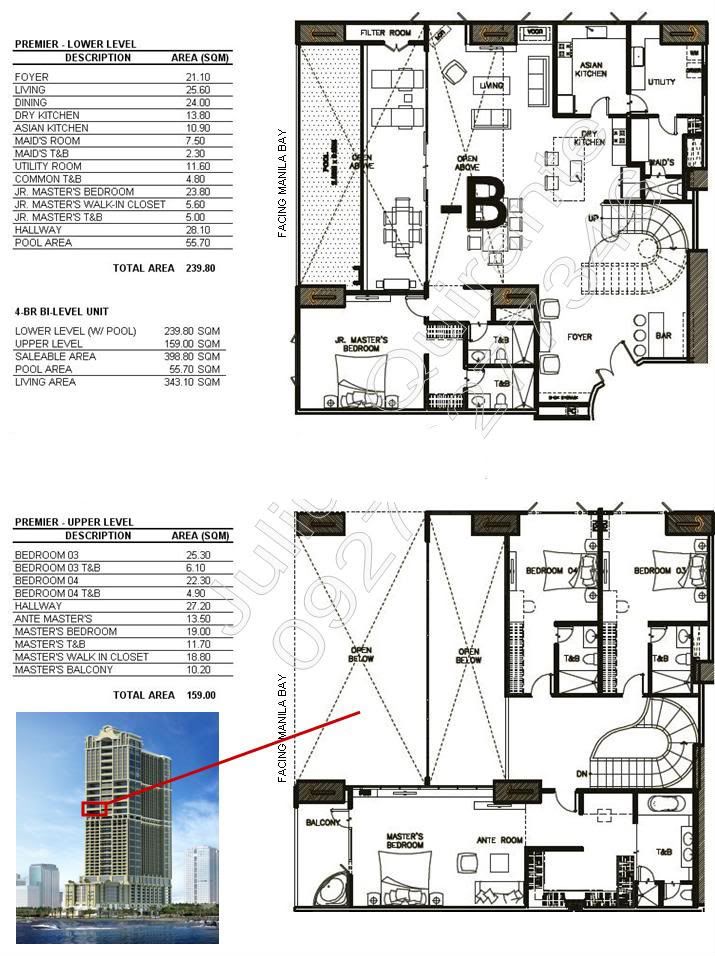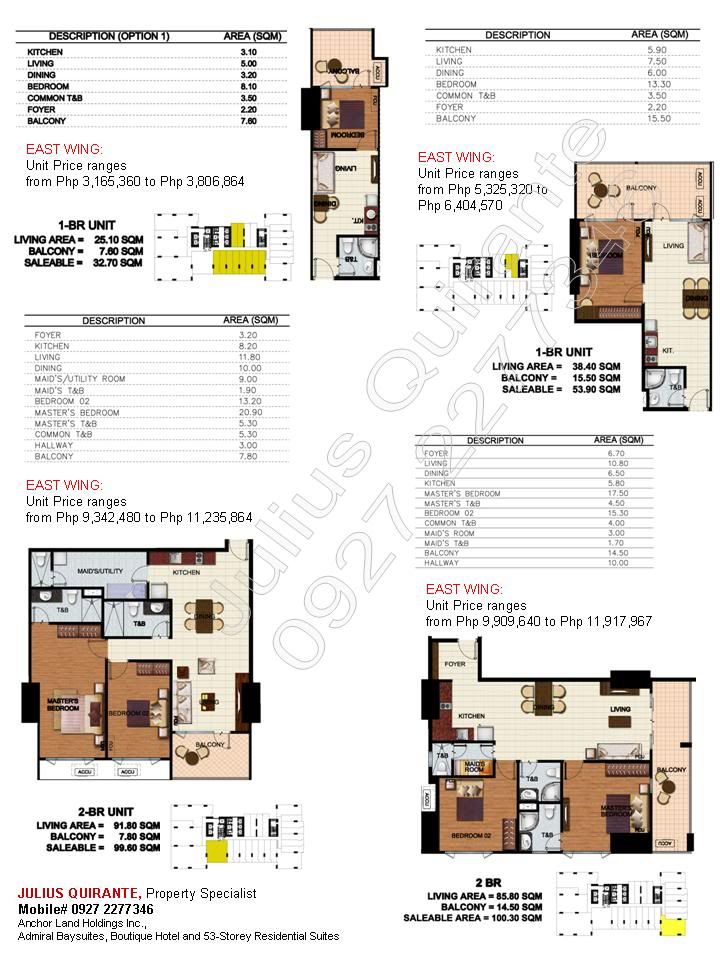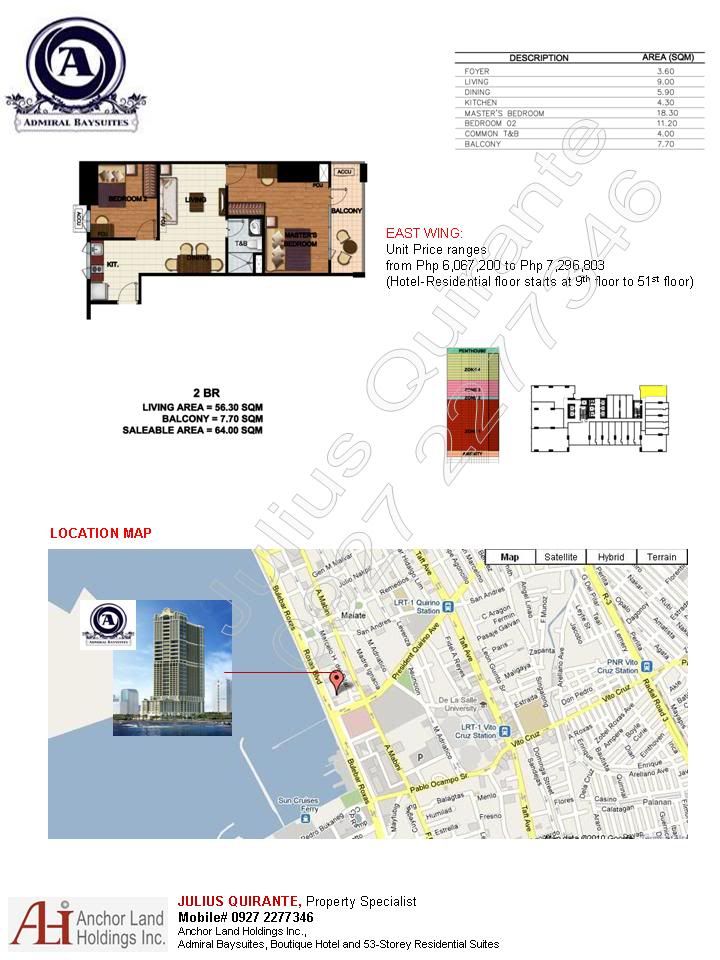 Live the good life you deserve with loved ones and friends. Let me help you invest or own a home, a luxury residential suite where you can relax and enjoy the breeze of Manila Bay.
If you have any queries, or you want to visit us or schedule an appointment, please give me a call at 0927 2277346, or email me at admiralbaysuites@yahoo.com and I'll get back to you the soonest possible.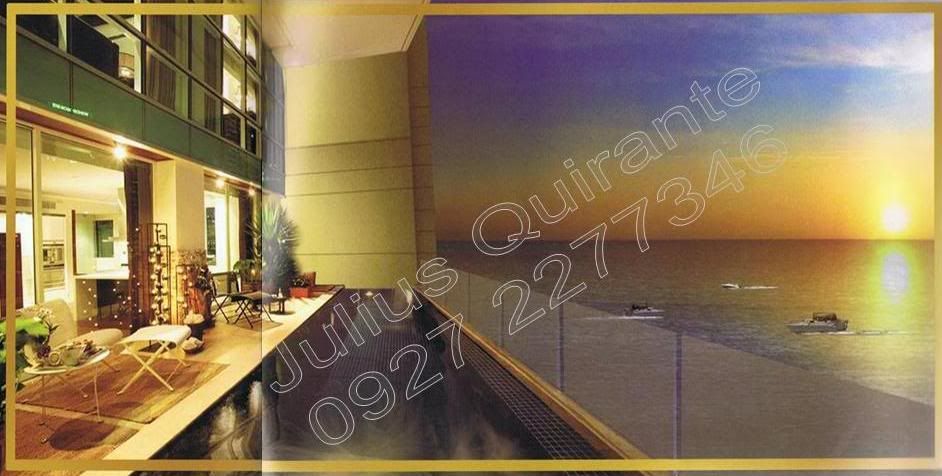 We're on pre-selling stage, big discounts are offered.
*** We have 1, 2, 3 and 4 bedroom units available (5 bedroom units were sold-out a month after its soft-opening in November).
*** If you want to view the picture (or floor plan) bigger, right click on the selected picture and select " Save Image As". Once save in your computer, open the file and zoom it to 100%.
Hope to hear from you soon!
Julius Quirante
Admiral Baysuites' Official Property Specialist (ID PS04)
Anchor Land Holdings Inc (ALHI)
Mobile +63 9272277346
Email: admiralbaysuites@yahoo.com